Nayuki is a 165cm Model 16 C-Cup Platinum Silicone Sex Doll, with hyper-realistic features.
She has a EurAsian look, with a medium frame, which makes her the perfect synthetic companion (SynCom.)
Gynoids have many optional extras, and fully articulated metal skeletons, which are fully posable in many positions, and are considered to be premium quality dolls.

Details:
Model 16

Height 165cm - 65.0 inches
Weight: 32kg - 70.5lbs +- 3kg - 6.6lbs
Bust: 86cm - 28.7 inches
Chest: 68cm - 26.86 inches
Waist: 615cm - 21.9 inches
Hips: 90cm - 33.3 inches
Model 16 is compatible with heads:
* - Polyoxymethylene (POM), also known as acetal, polyacetal, and polyformaldehyde, is an engineering thermoplastic used in precision parts requiring high stiffness, low friction, and excellent dimensional stability.
---
Eyes
For Gynoid dolls, the Eye options are:

Brown eyes
Grey eyes
Blue Eyes
Purple Eyes
---
Hair/wigs
There are seven options for Gynoid Hair:
#1 Long Dark Brown Wavy Hair
#2 Short Silver Hair
#3 Dark Brown Bob Hair
#4 Long Brown Wavy Hair
#5 Mid-Length Light Brown Straight Hair
#6 Long Dark Brown Straight Hair
#7 Long Brown Straight Hair
---
Joints
The options are:
Standard/Tight Joints - these joints can hold a pose and will bear the weight of the doll - superb for photography.
Loose Joints - these joints are intentionally loose, and will not bear the weight of the doll - excellent for a bed doll that you wish to spoon with.
---
Vagina Type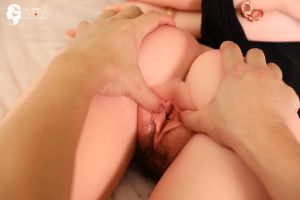 There are essentially two types of vagina for Gynoid Dolls:

Fixed - the vagina is an integral part of the doll, and feels more solid, but is more difficult to clean
Removable - an insert is placed into the vaginal cavity (past the labia, so looks like the fixed vagina), but is removable, so is easy to clean.
---
Vaginal Depth and Texture
There are many lengths and textures for the Gynoid Doll Vagina (Both fixed and insert):
Default: comes in lengths - 10cm, 13cm, 15cm, 18cm
M10 - 12cm only
M11 - 12cm only
M12 - 11cm only
M13 - 12cm only
M14 - 11cm only
M15 - 13cm only
M16 - 10cm only
---
Pubic Hair
With Gynoid Dolls you can opt to have Pubic Hair implanted into the silicone, or none at all.

---
Feet
You have two options with Gynoid feet:
Standard feet - look like normal feet, but has trouble bearing the full weight of the doll, and standing unaided.
Stand-Up Feet - Have 3 bolts protruding from the sole of the foot, that bear the full weight of the doll, and allow to stand unaided.
Above photos are representative only of the structure of the feet.
---
Packaging
You have two options with Gynoid:
No Flight Case - Cardboard Packaging
Flight Case - good for often moving the doll safely.
Vital Statistics
Type
Silicone
Head
Nayuki
Body
Gynoid Model 16
Height
165cm - 65.0 inches Model 16
Weight
32kg - 70.5lbs +- 3kg - 6.6lbs
Bust
86cm - 28.7 inches
Chest/Band
68cm - 26.8 inches
Waist
61cm - 21.9 inches
Hips
90cm - 33.3 inches
Other Measurements
Shoulder Width
37cm - 14.6 inches
Arm Length
Leg Length
Upper Arm Girth
Wrist Girth
Thigh Girth
Calf Girth
Ankle Girth
Foot Length
23cm - 9.1 inches Model 16
Interactive Areas
Vaginal Depth
Variable
Anal Depth
Oral Depth
165cm Nayuki - Model 16 Gynoid
Brands Gynoid
Product Code: Nayuki Model 16 - Gynoid
Availability: Produced to Order (2-3 Months)
Tags: Gynoid, Nayuki, Sex Doll, Silicone, Hyper Realistic, Model 16
What People think of us