JinSan Heads.
There are many heads to select from, and all JinSan heads, are compatible with all JinSan bodies:
WM-Doll Bodies
WM-Dolls Bodies
YL-Dolls Bodies
---
Skin Colour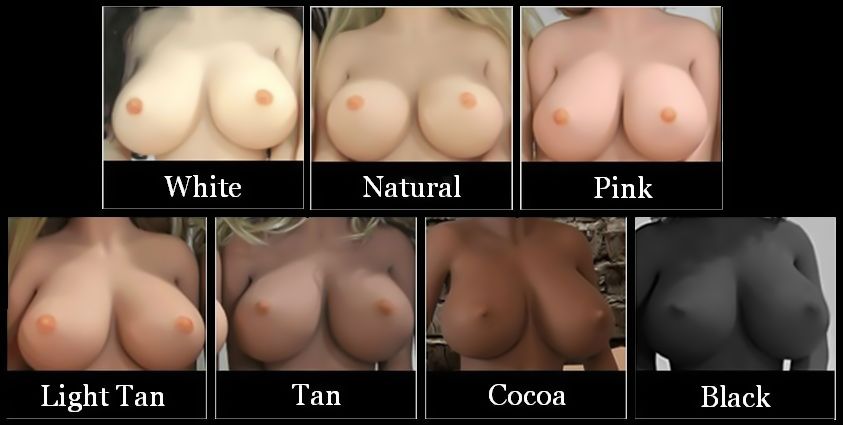 The Skin colour of your doll, can have a major impact upon the look you wish her to have.
White - Pale
Natural
Light Tan
Tan
Cocoa*
Black - Dark*
Sporty girls are more likely to have a tanned, outdoors look to their skin, so The-Doll-House would advise a Light Tan to Tan skin colour for a sporty look, depending upon how dark you like it.
Cocoa Skin for a Indian sub-continent look. *PLEASE NOTE: Darker skin colour results in a weaker TPE that is more prone to splitting/breaking!
Pink, or Natural skin will have a colour that lends itself well to rouge/bronzer and other cosmetics, so is capable of many looks.
White skin is very pale, and good for a very Caucasian or a very pale Japanese look. Only light cosmetics should be used, unless a Gothic/Punk style is to be employed.
Black skin is very dark, for a particularly Afro-Caribbean (African/West Indian) look, which goes very well with Brown eyes for an authentic look, and Green eyes for an unusually pretty look. Different cosmetics will be required for Black skin as opposed to the other three colours of skin.
*PLEASE NOTE: Darker skin colour results in a weaker TPE that is more prone to splitting/breaking!
---
Eye Colour
The eyes are essentially in the shape of a hollow hemisphere, and are placed into the hollow of the eye socket.
The hollow of the eyeball itself, is filled with synthetic/wool padding, to provide pressure and traction, and keep the eye(s) in position, so the eyes can be moved easily within the eye socket/head of the doll.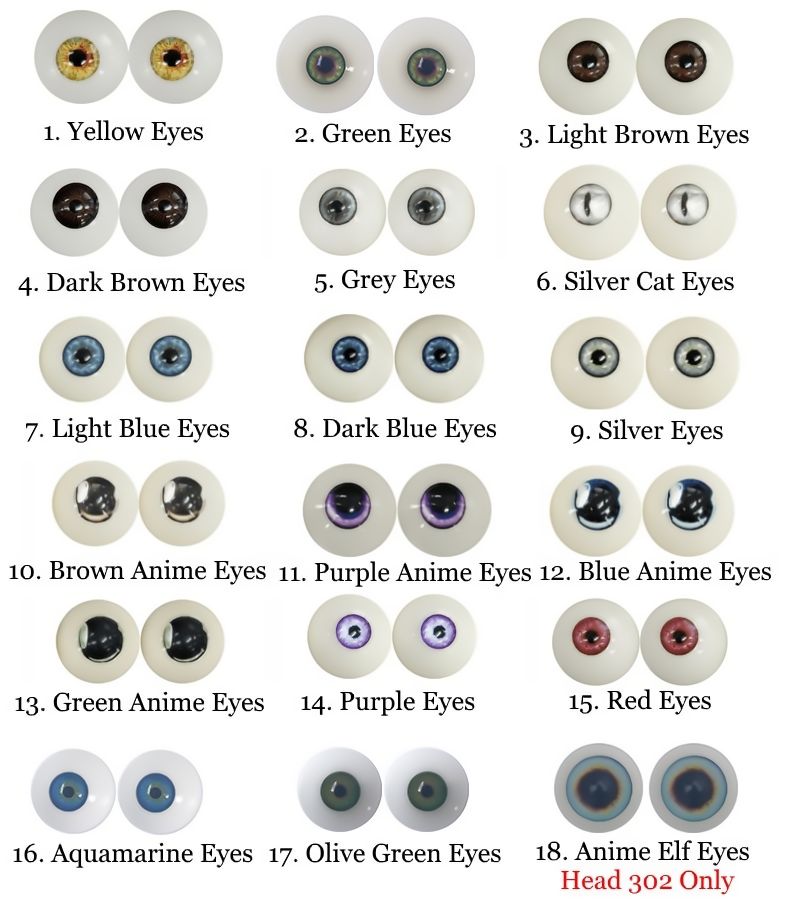 There are ten colours of eyes for your doll:
Dark Blue Eyes
Light Blue Eyes
Red eyes
Yellow eyes
Grey Eyes
Silver Cat eyes
Green eyes
Cartoon eyes
Dark Brown eyes
Light Brown

---
Hair/wigs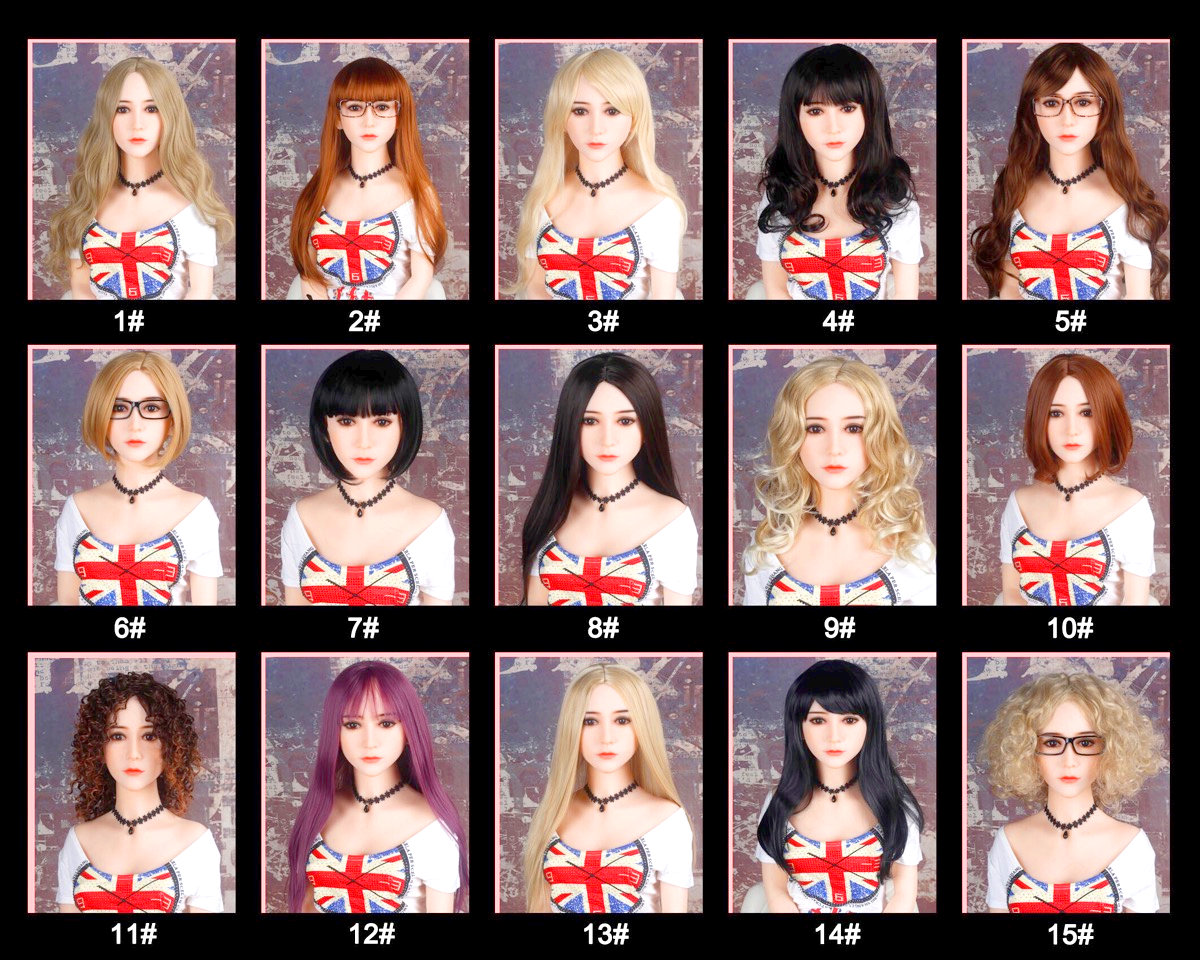 The hair of your doll will have huge impact upon the look and impression of her to others.

More classically elegant looks will benefit from longer styles that can be simply brushed and worn, or styled (Up, Down, Pigtails, etc.)
Please note, that longer length wigs take more care to keep tangle free.

More youthful styles are typically shorter (though not exclusively) than a classical look, but are a lot easier to keep tangle free.

It is good practice to have more than one wig for your doll so that she may easily adapt to your mood.
#1 Long No-Fringe Mouse Brown Hair
#2 Long Fringed Copper Hair
#3 Long Straight No-Fringe Blonde Hair
#4 Long Fringed Black Hair
#5 Long No-Fringe Dark Brown Hair
#6 Short Blonde Bob
#7 Short Fringed Black Bob
#8 Long No-Fringe Straight Black Hair
#9 Long No-Fringe Wavy Blonde Hair
#10 Medium No-Fringe Copper Hair
#11 Medium Curly Brown Hair
#12 Long Fringed Straight Auburn Hair
#13 Long V Straight Blonde Hair
#14 Long Fringed Black Hair
#15 Medium No-Fringe Curly Blonde Hair
---
Mouth

There are two options for the Mouth of your Doll:
Standard - this is a standard textured oral cavity
Enhanced - this has an attached tongue that can move back and forth, and a physical uvula at the rear of the mouth, where the throat would begin.
---
Delivery Times for Love dolls/Sex Dolls
Delivery times can vary depending upon the complexity of the order and number of dolls ordered.
The typical times from order to construction can be up to 7-days.
Once the order has commenced production can take 7-14 days.
If the Doll specification is very typical, there is the possibility that the factory may hold that model in 'floating' stock.
This would reduce the production time to 1-3 days. This is of course, at the discretion of the manufacturer.
Upon completion the delivery time is typically 7-14 days.WM-Dolls use high quality simulation software in order to produce the life-like body/face models using the latest environmentally safe material (TPE ThermoPlastic Elastomers.) WM-Dolls adopt an advanced unique production process, that enables the feel of smooth and delicate skin, with more elasticity than flesh, and yet, a very human skin feel and realistic visual appeal.
All materials involved in the process were compliant with National Health & Safety Standard which is harmless to human health and is environmental friendly.
Due to these reasons, the production phase can take some time.
So Customers are respectfully requested to expect a delivery time of 14-31 days from Order to Delivery for their Doll(s).
Vital Statistics
Type
TPE
JinSan Heads
Brands JinSan WM-Doll
Product Code: JinSan Heads
Availability: Produced to Order (2-4 Weeks)
Tags: JinSan Heads, Sex Doll, TPE
What People think of us